Procedures

Procedure information provided by VeinDirectory.org
Hours of Operation
Monday - Friday
Facility Information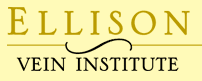 When it comes to varicose veins, we all know the obvious: They are unsightly. But aside from their appearance and the social distress they can cause, varicose veins present other problems. The pain they cause can be significant, often preventing you from enjoying everyday activities. In fact, varicose veins can even lead to permanent skin discoloration, sores and rash.
Today, there is effective treatment. And it is offered by a doctor with the highest of medical credentials. We invite you to learn more about Dr. Robert G. Ellison, Jr. and the Ellison Vein Institute.

At the Ellison Vein Institute, we have one purpose: to specialize in the treatment of venous disease, including varicose veins, spider veins and skin problems resulting from abnormal veins.
We offer state-of-the-art, cutting-edge technology for the diagnosis and treatment of abnormal veins. Dr. Ellison emphasizes good cosmetic outcomes as well as alleviation of the symptoms associated with abnormal veins.

Our top priority is offering patients the care they need in a comfortable, compassionate and professional environment. Our office, in the Baptist Pavilion, provides just such a setting, with all the advantages of an adjacent major medical center.

We also stress the importance of a thorough vascular evaluation by a specialist physician who has the ability to provide any type of treatment the patient may need. Dr. Robert G. Ellison, Jr. is one of a very small number of physicians with these qualifications. In fact, he is the only vascular surgeon in North Florida specializing in the treatment of venous diseases and varicose veins.

A Team Approach

To achieve the best long-term results, each patient should also be evaluated by an entire practice that is totally dedicated to the evaluation and treatment of lower-extremity venous disorders—including physician, registered vascular technologist, nurse practitioners, nurses and other professionals. Only after a complete evaluation is it possible to formulate an individualized treatment plan, customized for each patient's needs and desires.
We offer the latest diagnostic and treatment methods for all venous disorders, including a full-service, non-invasive vascular laboratory with state-of-the-art technology to accurately and comfortably diagnose circulatory disorders.

The Right People, The Right Place

Ninety-five percent of the procedures we perform take place right in our office. Sometimes a hospital setting is preferred due to insurance requirements, patient preference or the nature of complex procedures. In these cases, we can perform procedures in the ambulatory surgical suite conveniently located just below our office.
You'll also be glad to know that most insurance plans are accepted by the Ellison Vein Institute, including Medicare
At the Ellison Vein Institute, we emphasize the importance of a complete vascular evaluation of the lower extremities.
We clearly understand the patient's need for caring professional attention from a highly qualified medical staff.

Physician's Background
Dr. Robert G. Ellison, Jr.
Dr. Ellison is a specialist in vascular surgery, a recognized expert in the diagnosis and treatment of varicose veins. No matter where you receive treatment for varicose veins, we strongly recommend it be offered by a qualified surgeon specializing in this field.
Certified by the American Board of Surgery, Dr. Ellison has been practicing vascular surgery and phlebology in private practice in Jacksonville since 1986. The Ellison Vein Institute is one of the busiest endovenous laser treatment centers in the United States.
Dr. Ellison also is a certified wound-care specialist, with expertise in treating ulceration and other skin problems associated with varicose veins. Dr. Ellison has many years of experience with sclerotherapy, as well as major surgical techniques for treating varicose veins.
He is a graduate of the University of Georgia and the Medical College of Georgia, and he completed a fellowship in vascular surgery at Georgia Baptist Hospital in Atlanta.
Dr. Ellison is a member of The American Board of Surgery, Florida Vascular Society, the Society for Clinical Vascular Surgery, the American College of Phlebology, Jacksonville Vascular Society, The Peripheral Vascular Surgery Society, and is a Fellow of the American College of Surgeons.

From Dr. Ellison:

"As a vascular surgeon, I often saw that patients with varicose veins would be put on the 'back burner' for more pressing, life-threatening problems. It became obvious to me that patients with varicose veins deserve not just a physician but an entire practice totally dedicated to the treatment of their problems. I strongly believe that physicians should not dabble in the treatment of varicose veins. They need to have the training, armamentarium and the ability to offer the patient the precise treatment they need."
Procedures & Services
Treatment Options
There are a variety of treatments available to relieve the discomfort and unsightliness of varicose and spider veins. Only a thorough evaluation by a qualified vascular surgeon, such as Dr. Ellison, can determine the treatment that is best for you. If the patient is treated improperly, it may actually aggravate the problem.

At the Ellison Vein Institute, we offer the most thoroughly proven treatments available.

Ambulatory Phlebectomy (AP)
Endovenous Laser Ablation
Closure Procedure (Radiofrequency)
Sonogram-Guided Sclerotherapy
Foam Sclerotherapy
Vein Ligation and Stripping
VISIT WEBSITE